It's been a while since my last share here due to poorly children, but I'm back and with quite a post for you! Settle down for 2 cards, a little insight into me and my creative side and the chance to go on a journey to find more creative inspiration as today I am taking part in the Creative Blog Hop, after being nominated by Eimear Carvill at Stamp In Colour.
I have been friends with Eimear for a couple of years now, we are both part of the larger team of Stampin' Up! demo's I am part of, the Stampin' Stars, and she is also a member of the Stampin' Creative Blog Hop team I created here in the UK (watch out on Saturday for that blog hop!). We have an online friendship thanks to the power of Facebook and I am looking forward to catching up with her in May at the next big Stampin' Up! event.
This blog hop gets papercrafters together from all over the world sharing our projects and we also answer a few questions about how we work and what we are working on, just so you get to know us a little bit better.
For my blog hop entry, I thought I would show you a couple of my recent makes to showcase the various ways we can colour in images using Stampin' Up! products, even though we no longer have the Blendabilites. I've really enjoyed rediscovering my childhood activity of colouring in and doing it in Stampin' Up! colours with my classic ink pads makes my heart sing!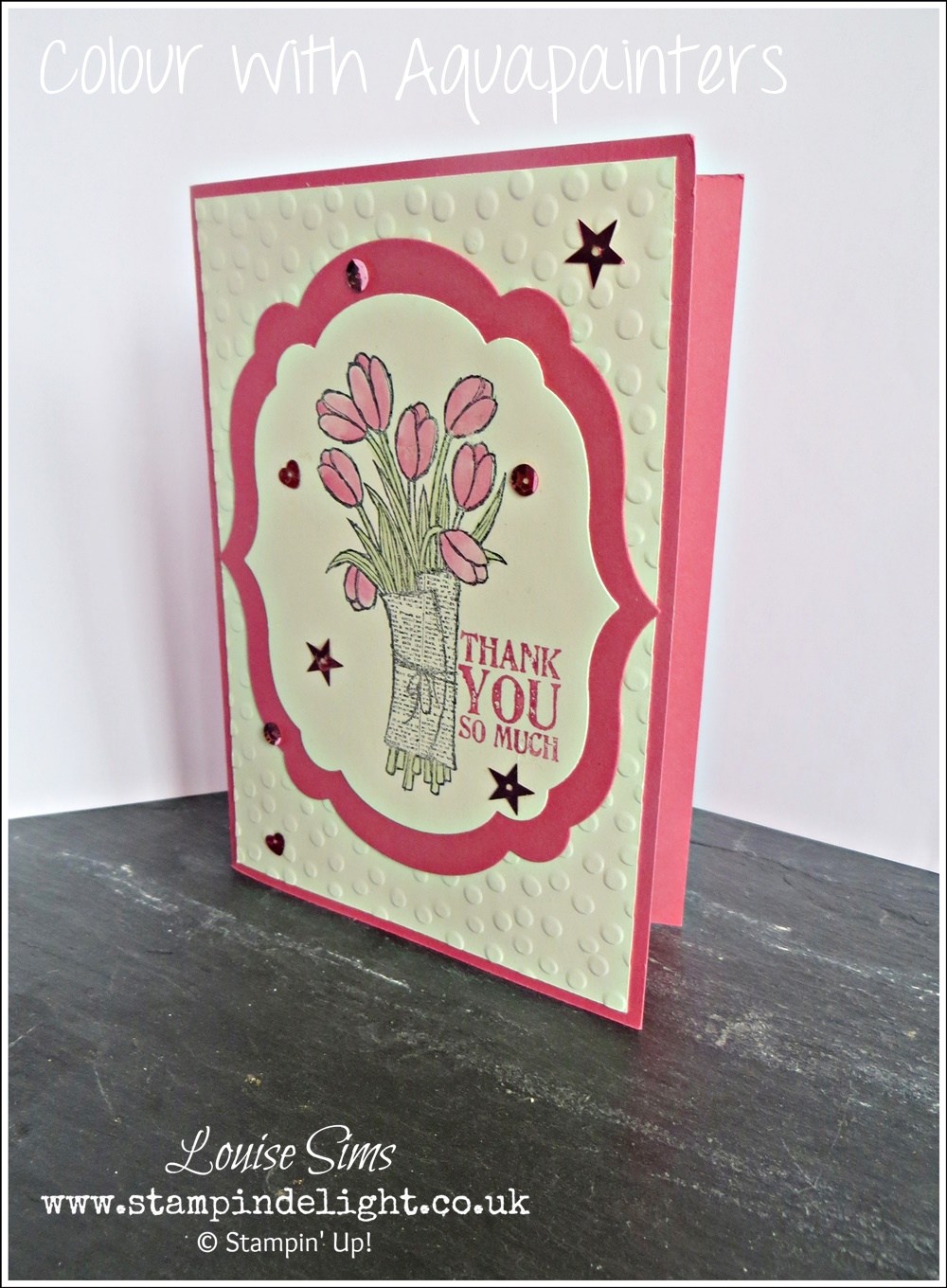 This first card features the Love is Kindness stamp from the Spring Summer catalogue. The original stamp actually comes with a sentiment to the right of the bunch of the flowers but I knew I wouldn't want that every time so I cut it away. It's ok honest! All you need is some sharp scissors and then you can either stick it on to the other side of the wooden block or add some clear mount cling foam to make it a clear mount stamp. Nifty eh?
I stamped the image in Stazon Black ink so that I could use my Aquapainters without fear of it smudging. Using aquapainters means I could colour in using Strawberry Slush to match my cardstock.
The Labels framelits create the matt layers to make this image pop off the card, whilst the Decorative Dots embossing folder add some texture.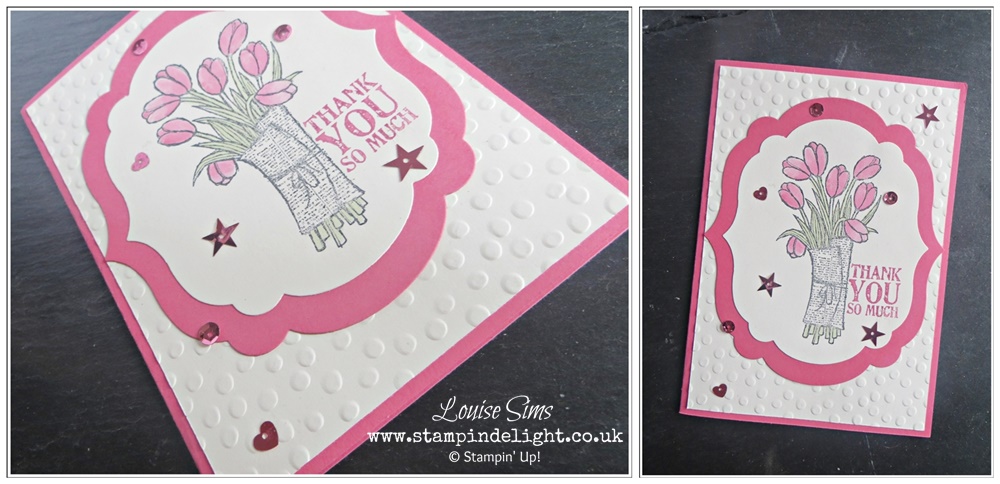 A final flourish of In Colour sequins adds some sparkle! If you follow me on Facebook you will have seen what happened when I opened the box to complete this card …. lets just say it took a while to pluck them from my laptop!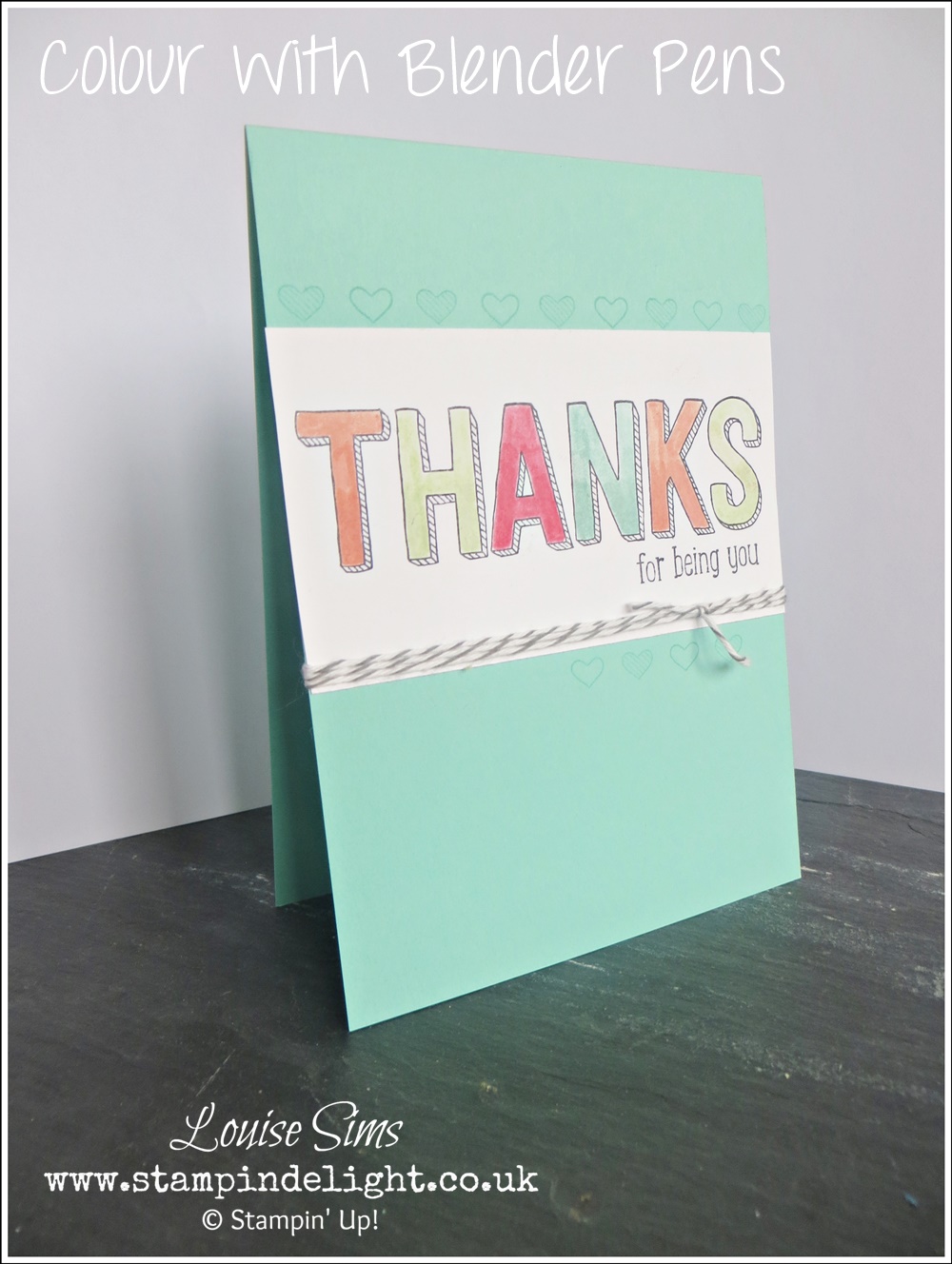 This second card is a complete CASE (Copy and Share Everything) from Stampin' Up! I love that Stampin' Up! are alway giving us great ideas – in the catalogues, at live events, on the Stampin' Up demo site Stampin Connection and across all points of social media.
These images come from the recent addition to Sale-a-bration free products – For Being You stamp set. Only a few days left to earn Sale-a-bration free products!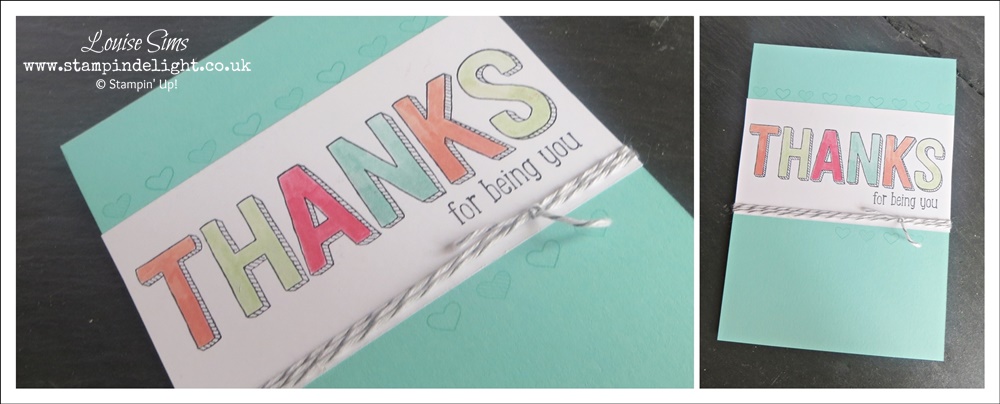 The "Thanks" has been coloured with the Blender Pens – perfect way to get coloured pen in any classic stampin' pad you own.
So onto the next section where you find out a little bit more about me…
1. What are you working on right now?
I'm busy preparing for my upcoming classes – I have 2 regular classes a month. A papercraft technique class where the ladies all receive a kit of product and a picture tutorial to learn various stamping and papercrafting techniques, and a Card Club, where we stamp 10 cards in one evening – 2 of 5 designs with everything ready prepared for them to just stamp, punch and assemble. I am also busy preparing gifts for my Craft Stash Club ladies and my Online Shopper Club shoppers.
2. How does your work differ from others in your genre?
I'm not really sure I have a style – the thing I love about being a Stampin' Up demo and doing classes is that it makes me broaden my papercrafting horizon and look out for new techniques to try. I think generally I create a clean and simple look, though I do like layers. I would say I stick to fairly minimal colour combinations, but what to do you think?
3. Why do you create what you do?
I began my papercrafting journey as a release from a stressful day job, instead of coming home in the evening to work some more, I had something else to spend my time on. Once I discovered Stampin' Up! I was hooked …. hello colour coordination! I became a demonstrator principally for the demonstrator discount, but then really liked sharing crafting with others. Now my Stampin' Up! business has lead me to forge some lovely friendships with people I would never have met otherwise – from my customers, to my downline, to my wider network of demosntrators around the country. I love that my hobby now also contributes to family treats and holidays.
4. How does your creative process work?
A process ….. I'm not sure it does follow a set process. I spend a lot of time browsing the internet for ideas to share with my customers. I am often pinning away on Pinterest during night feeds with my 8 month baby! For my papercraft class I gather the stamps, papers and coordinating cardstock and ink I have selected for that months theme and often see where my inspiration takes me!
So thank you for joining me today. Next week on 31st march it will be time to hop on over to my 2 nominations. I have selected my Stampin' Up! mummies! We at Stampin' Up form a family of demonstrators and the person you sign up with, your upline, is often called your mum – there to support you as you begin your Stampin' Up journey with advice and encouragement, just like a real mum!
Back in 2011 I signed up with Victoria Rogers of Blue Jelly fame, who was the person who introduced me to Stampin' Up first. She is no longer a demo, but remains a very good friend and now enjoys papercrafting for pleasure as she documents her family's life with Project Life.
My second nomination is my current Stampin' Up mum, Kim Fee of Simply Fairies. Even now my upline is no longer active I am very lucky to have inherited this lovely lady as my mum. She has already been a friendly ear to me and I look forward to spending time with her at the next Stampin' Up! event.
I love how both these ladies create their projects so be sure to pop by next Monday to see what they have in store.
Hasta luego / see you later
Louise
Stampin' Up Supplies List –  Click on the images below for more product details and easy on-line shopping!
Pop back later for a full list!